---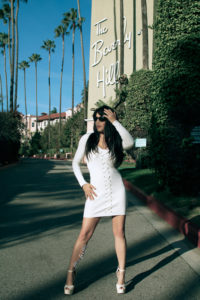 My name is Mia Isabelle Anderson. I am a mixed heritage exotic model and companion frequenting Austin, Buda, Kyle, San Marcos,  and San Antonio. Many gentlemen have told me they find me to have a very exotic look that is ethnically ambiguous. I am a mature model, I strive to create an experience that is a cut above the average model. While some gentlemen do prefer models in their 20s, many discerning business professionals and entrepreneurs gravitate towards me because I offer the best of both worlds;  a youthful vibrant appearance coupled with sophistication, culture, and intelligence.
What amazes men most about me is my actual age compared to my appearance. While I am 40 years old, I am consistently told I appear to be as young as 28 years old, as I have no wrinkles, high cheekbones, and firm supple skin not only on my face but all over my body. While most of the reason I appear so youthful is likely due to genetics, some of the reason I hold onto physical youth may be because of my strict beauty regimen and avoidance of harsh UV ray damage.

Due to my healthy lifestyle, I have a fit and attractive figure, measuring 5'4" tall, I weigh 120 lbs. I have a toned body and work out 5 days a week to keep my muscles toned, and to increase my physical stamina for modeling and other exciting adventures. I have long dark brown naturally curly hair which I do blow dry straight most of the time, you will rarely see me in pictures or in person sporting my corkscrew curls. I have full pouty lips, and deep large brown eyes. Most people find my ethnic appearance to be quite ambiguous, yet very exotic and alluring.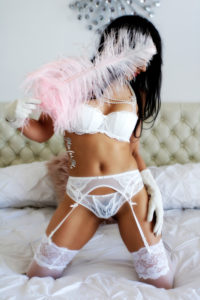 Being a luxury social companion and private model, I am considered by a discreet few to be the ultimate exotic private model experience. I am college educated, having already obtained a bachelors in arts, I am also in pursuit of a fine arts degree. I attended an exclusive charm school and have music and dance training. Being highly educated, polished and articulate you can expect that your time with me will be a passion filled adventure of the utmost delight. I have a mind for business and am technical enough to have designed this entire website myself too! While I am refined, I also have a playful side as well. I love to laugh and more so love to make people laugh. From an evening out on the town, to a business function, to a romantic interlude in front of the fireplace, I am the perfect companion to a pleasurable experience.
I am very selective when choosing who I will spend time with. While I remain quite exclusive, I am however open to meeting new friends. Take your time to review my entire website, and then when you are ready to indulge just say…